Uniting everyone, everywhere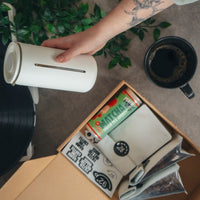 Straight from our roastery, to your door.
Awesome coffee, made simple. Roasted in Liverpool, U.K. and loved country wide.
Shop Coffee
Shop merch
PEOPLE. COMMUNITY. COFFEE. IN THAT ORDER.
Here at 92, we put people first, always. From partnering with local businesses to working with our brilliant independent suppliers to showcasing local talent in all of our shops through music, art and fun, we're creating connections and community everywhere we go. We're nothing without the communities we operate in.

❤️ from 1,589,162 customers, in 20 countries
★★★★★

Amazing tasting coffee beans for making that hot cup in a morning! I'm really enjoying the smokiness of the CAPUCAS COOPERATIVE :) With quick and reliable delivery, both to myself and to family abroad, I would definitely recommend 92 Degrees! Thank you!
★★★★★

Fantastic coffee! I use the monthly subscription very fast delivery, always on time and one occasion I was about to run out they sent it ASAP!
★★★★★

Good quality coffee. The roast is good, there is no bitterness to the coffee as you can get with supermarket coffees, lots of flavour.
Delivery is on time and there is no excess of packaging. Very pleased
★★★★★

I have been a customer for about a year and can say i'm very happy with the coffee - thats the first thing - but even more delighted with the customer service. There are not may companies where you get emails from the person roasting the coffee and openness to discuss my tasting notes as well as sharing brewing processes and even sharing news about new beans that are coming to the shop. I can wholeheartedly recommend the coffee and this team. the Coban and now the Capucas is my current fav
★★★★★

Fantastic subscription service, as well as in-store coffee. Subscription always arrives in good-time, and all of the stores we have visited (mainly Myrtle St) have very friendly staff and a great interior. Keep it going!
★★★★★

I went for the Hope St Espresso on recommendation & I wasn't disappointed. Delicious & smooth.
My order was processed really quickly & was with me within a few days. Recommend & will be purchasing more in future.
★★★★★

I have travelled the world drinking coffee from everywhere and I can hand on heart say the 92 degrees Hope St espresso is the finest roast I have ever tasted. The amount of crema produced is double most other beans and the flavour is amazing. Best of all it is right in my home city, amazing!!
★★★★★

The best coffee this side of Australia!
★★★★★

I am a reqular visiter to your store in Southport . The coffee is great and so are the staff. It's really hard to find a decent flat white but yours are superb. I also own a gym in Southport and have been recommending 92 degrees to all my members and they have all said it's a great place for coffee.
OUR VISION
UNITING EVERYONE, EVERYWHERE THROUGH OUR LOVE OF COFFEE
Coffee is only the beginning.
10% of every bag you buy goes to Project Waterfall, bringing clean water and sanitation to coffee-growing communities around the world.

Need help?
Use our onsite chat or drop us an email at customerservice@92degrees.coffee to get help with any request, or just to show off your awesome coffee!